Supporting our Schools
Central Team Structure
The Central Team is made up as follows: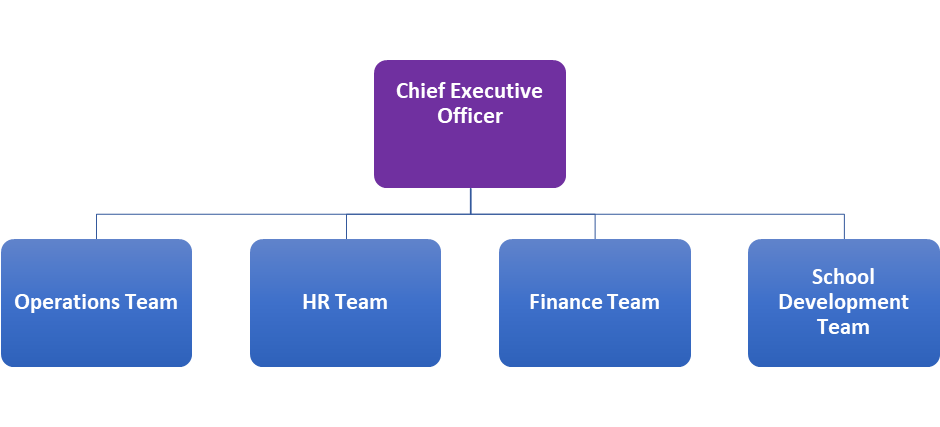 The Chief Executive Officer reports to the Board and has overall responsibility for the implementation of the Trust Strategy and all aspects of the operation of the Trust. The CEO is line manager of all Principals.
The Operations Team
The operations team carries out the following core functions:
Governance oversight/support

Legal support/advice

Compliance activities (including H&S)

GDPR/DPO support

ICT strategy

Estates strategy.
The team is made up of the following central staff:
Director of Operations
Trust Governance Manager
Trust Senior Estates & Compliance Officer
The HR Team
The HR team carries out the following core functions:
Effective and timely handling of HR and employee relation issues

Policy and procedure management, support and advice

Recruitment and Onboarding Services

HR Training for line managers and senior leaders on Employee Relation issues

Provision of advisory and consultative support on school staffing reviews
The team is made up of the following central staff:
Director of HR
Trust HR Officer
The Finance Team
The finance team has both external and internal core functions:
External
Trust adherence to all statutory financial requirements including year-end accounts, audit, VAT, HMRC

Compliance with the ESFA funding agreement and the FNTI including monthly reporting to the ESFA, accounts returns, benchmarking
Internal
Providing Trustees and the BF&A committee with assurance and evidence that the Trust has sound financial annual and long term plans and budgets in place to achieve the Trust's strategy, has a strong system of internal control, is able to mitigate financial risk, and has adequate levels of cash reserves to continue to operate.

Providing LGBs with financial information and assurance, attending meetings when requested

Providing financial advice and guidance to Principals including preparation of school level budgets/forecasts and monthly financial reports.

Providing technical support and guidance to school- based finance staff
The team is made up of the following central staff:
Chief Financial Officer (vacant)
Senior Trust Finance Manager
2 Trust Finance Managers
Trust Finance Officer
The School Development Team
The School Development team carries out the following core functions:
Strategic Trust development planning linked to evidence-based assessment of performance

Quality assurance including assessing the impact of leadership on provision

Support for school leaders in relation to key priorities identified by the school/Trust

Development of Trust wide systems/approaches to key areas e.g., pupil premium strategy, school status reports, self –evaluation

Development of opportunities to facilitate collaborative working practices

Best practice research and evaluation including links with external providers

Policy development and implementation

Reporting to the Education and Standards Committee, Trust Board and RSC

Professional development support: Early Career Teacher framework, SENDCo induction, safeguarding

Advice and guidance relating to safeguarding

Centralised lead for MAT contracts: FFT, GL Assessment, BlueSky, EdTech
The team is made up of the following central staff:
Director of Teaching and Learning
Assistant Director of Teaching and Learning: PP Lead
Assistant Director of Teaching and Learning: SEND Lead
Trust Lead: Safeguarding [0.2 FTE]